Our Norma Burruss Foreign Missions Ministry
Shiloh Old Site's Norma Burruss Foreign Missions Ministry is focused on supporting under-served populations, worldwide.
For example, in 2014 we provided $10,000 in aid for people in Africa struggling with Ebola. In earlier years, we helped build wells for remote villages in Africa. We have provided tuition, uniforms, housing, and school supplies for students at Songhai Center, West Africa. And we have provided financial aid in Darfur through international relief and development organizations.
In 2015, we are sending four men from our church to Haiti to assist with various projects there.
We have also generously supported Sanctuary of Moses, providing funding to help furnish a new education complex in West Africa. The Norma Burruss Foreign Missions Ministry has also provided mosquito netting to several villages both in West and East Africa. Our adult leaders led a (self-paid) delegation of women and youth to Ghana, where we provided short-term support to clinics, schools, and hospitals. This trip also served as an enrichment for the Shiloh Old Site youth who participated.
We continue to support the "Mary H. Bridgewater Memorial Well" project. This project builds wells for communities in West Africa and helps provide clean water to the villages. Ambassador Oguin from Benin, who has been a valued friend of Shiloh Old Site, has worked to advise us on this project and to help resolve the various issues that inevitably arise.
In 2014, we also partnered with Shiloh Old Site's Youth Ministry to provide enrichment and training for our youth. Through an essay contest, we offered selected youth an expense-paid opportunity to attend the Lott Carey Youth Missions Conference in Winston-Salem, North Carolina.
We hope to prepare our youth and selected adult leaders for a mission to Jamaica in the near future.
Shiloh Old Site has also been a long-time and strong financial supporter of the Lott Carey Foreign Mission Convention, which has its headquarters in Washington, D.C. Lott Carey undertakes important mission work in many parts of the globe and makes a difference for the lives of many.
Lott Carey's 118th Annual Session will be August 10-14, 2015, in Greensboro, North Carolina.
We hope to have some Shiloh Old Site members participating, receiving valuable training and information on effective global missions work.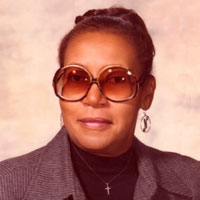 The person after whom our ministry is named
Shiloh Old Site's Foreign Missions Ministry is named after Norma Burruss, a lifelong member of this congregation who had a strong heart for foreign missions work. Beginning in 1971, she herself served for a few years as a teacher in one of the Lott Carey mission schools. The school was in Brewerville, Liberia. On a subsequent trip to Liberia, she was ordained as a Christian minister.
Rev. Burruss was born in Fredericksburg, Virginia, on December 24, 1931. Before and after her service in Liberia, she served as a special education teacher in the Fredericksburg city schools.
Rev. Burruss died at Mary Washington Hospital on August 21, 2000. Her body rests in the Shiloh Cemetery.
The photo of her on this page was taken in 1978. To view additional photos and information concerning Rev. Burruss, click here.